We provide services designed to help you enjoy and profit from your equine endeavors. From classes and private lessons on horse care and training to professional photogrraphs and videos of you and your favorite horse, to acquiring racehorse prospects and getting their pictures taken in a winner's circle, we help you participate as much or as little as you desire. Take advantage of our unique combination of knowledge, experience and enthusiasm and enjoy a profitable equine experience
.

18th Trainers' Exam Prep Class at Lone Star Park

April 11, 12 and 13 has been cancelled for this year. See information below about the next Trainers' Exam Prep Class to be held in New York May 30-June1. For those in the midwest, my next Trainers' Exam Prep Class in your area will be at Remington Park August 17, 18 and 19.



Trainers' Exam Prep Class announced for New York. I have received requests almost yearly from someone in New York desiring to take this class. Already in 2018, three participants are ready to sign up. Today I am opening registration for a TExP class May 30-31 and June 1 at Belmont Park (or somewhere nearby). I'll need at least six to sign up by April 30 for this class to "make" and class size will be limited to 12, so sign up early to guarantee your spot. To see a class outline before you sign up CLICK HERE. (You can get to registration form from that page.)


To go directly to the sign up page CLICK HERE.

(You will be emailed more information)

REGISTRATION NOW OPEN
April 16-20, 2018 - Basic Horse Handling & Care 099 (Basic Grooming 099) at Magdalena Farms, Lexington, KY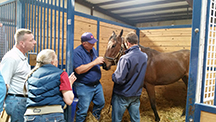 Want to work with horses? This workforce preparation class will provide the basic horse handling and care knowledge and skills you will need to work safetly around equine athletes. Learn tterminology and skills required for entry level worker positon in the equine industry, with specific emphasis on racehorses. Participants that complete this course and pass evaluations on Friday are virtually assured of being offered a job. This is also a good class for individual horse owners and those wishing to become horse owners, particularly owners working with retired racehorses. Classroom sessions will be held at Kentucky Horseshoeing School on Lexington Road in Richmond, KY. We will relocate to Magdalena Farm during our morning break (about 20 minute drive). With support from KEEP and TOBA, current KEEP and TOBA members can pay a reduced tuition of $75.
TO SIGN UP AND GUARANTEE YOUR SPOT IN THIS CLASS, CLICK HERE.

Later in 2018
1. Basic Grooming 099 and Groom Elite 101 at Woodbine in April, May and June. Possible GE 201 in June. Trainers Exam Prep Class at Woodbine in June.
1A Basic Grooming 099 at Presque Isle Downs May 7-11.
2. Basic Gromming 099 at Laurel Park June 25-29 Groom Elite 101 starts at Laurel Park the end of July
3. Groom Elite 101 and 201 at Isothermal Community College in April anbd May
4. Groom Elite 101 at Prairie Meadows in May and June
4. Philosophy and Methods of Training Racehorses - Santa Anita in July; Lexington, Ky in late September.

5 Writing. I'm continuing to "write that book". Events of January 2018 suggested that I complete this book sooner rather than later. You can follow my progress by reading "exerpts" plus other ramblings by following me on Medium. CLICK HERE to go there now and get started.



TRAINERS' EXAM PREP and PHILOSOPHY & METHODS OF TRAINING

CLICK HERE for class outline and other general information about the Trainers' Exam Prep Class and to add your name to our email list to be notified when other classes are scheduled
If you are interested in becoming a Rachorse Trainer or Assistant Trainer and cannot attend a Trainers' Exam Prep Classes you can purchase the Prep Class materials by CLICKING HERE