TRAINERS' EXAM PREP CLASS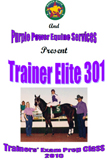 Lexington, KY 06-2017
Thank you for registering for this TExP class to be held in Lexington Kentucky June 28-30 . If you know someone interested, call them and ask them to register. If you pay your tuition and cancel by June 16 you will receive a 50% refund and the TExP materials package. If you cancel after June 16 you will not receive a refund, but you will be mailed the TExP materials package and can take a subsequent TExP class by just paying $149.
Class will be held in Lexington Kentucky at a venue to be named soon. You will receive specific information about parking and other pertinent information in that email sometime around June 15. We will be finished with class by 2:00 PM on Friday June 30 for those planning to enjoy a long July 4th Holiday weekend.
Until June 23rd the PayPal button below will allow you to pay the Early Bird tuition of $299. Between June 23rd and June 27 tuition will be $324. If space is still available tuition may be paid at the door in amount of $350.
If you do not wish to pay tuition now, return to the Purple Power Racing homepage and click on the direct link to bring you back to this page. (You do not have to worry about being charged twice as you will not be charged for registering, your card will only be charged when you click on the link below.)

Thank you again. If you have questions call me at 859-321-4377 or email me by CLICKING ON THIS LINK.